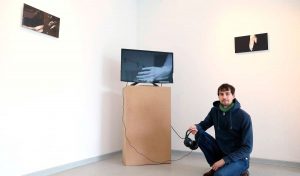 Kai Welf Hoyme was born 1979 in Mönchengladbach, Germany.
He lives and works in Köln and Mönchengladbach.
His multidisciplinary artistic work circle the field and the relation of personal and collective imagination, memory, language, bodies and spaces / places and have taken the form of experimental shortfilms and videos, performances, sound and audio art, multimedia-installations, photography and scenography.
His artistic work have been exhibited und screened since 2003. Including  Anchorage Museum; File, Sao Paulo; Love and other Perspectives, The Picnic Pavilion, in the framework of the 58th Venice Biennale; European Media Art Festival; Japan Video Dance Festival, Tokyo; Shortfilm Festival Oberhausen; Frame Research, Museum National de Soares dos Reis, Porto; Durban Int. Film Festival and ZKM, Karlsruhe.
He has studied at the Academy of Media Arts Cologne (KHM) and the Ruhr-University of Bochum.
He received grants and prizes including the Video Art Award of the Interl. Sardinia Film Festival 2016; Offene Entwicklungsvorhaben, Kulturwerk der VG Bild-Kunst Bonn 2020; Begabtenstipendium, Peter Fuld Stiftung and Kölner Theaterpreis and Kurt-Hackenberg-Preis for Petersberg1, together with Futur3.
Here you can watch an artist portrait (in german language).